A Choir Trip to England: Tuesday and Wednesday, July 7 and 8
By Bonnie and Larry Arnold
From Kerrville to London
The trip started with a 31 hour "day," including sixteen hours of travel time and another fifteen hours for our first day in London.
We left Kerrville at 8:00 am Tuesday. On the way we flew from San Antonio to Dallas/Fort Worth International, toured D/FW after getting wrong directions about gates and terminals, and flew British Airways for ten hours. We finally arrived in Gatwick Airport, outside London, about midnight Kerrville time/6:00 am Wednesday London time. A few got off the plane having slept on board. Larry's infantry training, sleep anywhere whenever you can, came in handy. Most of us didn't rest comfortably, or sleep at all. Many stayed up to talk or play cards, or generally party in the back of the plane.
Despite the jetlag fog, Gatwick was less confusing than DFW, particularly since we quickly found Susan Worgess, our escort for the two weeks.
It was almost cold when we got out of the terminal, and found our coaches (not buses; that's a different vehicle in England.) The English coach drivers were Keith and Tony.
Susan's first job was to keep us awake until past suppertime. This is supposed to fend off jet lag. Some struggled to stay awake all day. Some were so keyed up about being here - finally! – they were running on adrenaline.
Windsor Castle
Windsor Castle was our first stop. Larry and I browsed in a woolen shop (sweaters, etc.) outside the castle gates but resisted the urge to buy just yet. We spent our first Pounds (£) on admission to the Castle and souvenirs in the gift shops.
Inside the Castle we got our first view of royal guards; tall bearskin hats, RED coats, and automatic rifles. Inside, the tour showed us armor, swords and pikestaffs, a carved ivory throne, flocked and brocade wallpaper, gold leaf ceilings, carvings around the edges of domed cupolas with stained glass windows, heraldry shields lining walls, and the biggest most ornate dollhouse I've ever seen. The dollhouse looked too fancy for even a little princess to play with.
Randy Wagner danced his wife Mary Gay through one stately room, just to say they'd danced at Windsor Castle. This is also where Mary Gay started her mental list of additions to their house, under construction in Kerrville. Randy kept trying to rein her in.
An English Pub
After the tour, we ate lunch in our first pub, with Jacquie Levensailor and her daughter Nicki. As we entered, the pub-keeper asked us, about three times, a question that sounded like "Ayten?" We finally figured out he was trying to find out if Nicki was the legal age, 18. Since she is actually several years older, Nicki wasn't nearly as amused as we were. Bonnie ordered her first Fish and Chips, and was impressed with the very traditional English dish.
We finally checked into the Kennedy Hotel, London, about 4 p.m. We had to get used to British buildings having a ground floor, then a first, second, etc. Our room was on the first floor, the second floor above the street, on a corner with windows overlooking a park next door and the blank wall of a train station across the narrow street. That explained the bell sounds we heard for three days.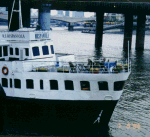 Dinner on the Thames
We read books to stay awake until dinner, then reboarded the coaches for the trip to the H.S. Hispanola, a floating restaurant moored in the Thames River. The Thames is a tidal river, which was at low tide, so the gangplank was very steep. Service was relaxed, and the room was warm, and after the first hour we were nodding off over our plates. Everyone refused dessert in favor of early bed.

---
© 1996 Larry and Bonnie Arnold, updated September 26, 1998