A Choir Trip to England: Friday, July 10
By Bonnie and Larry Arnold
This was our one full free day.
The Underground
To get around London we bought day passes, good for both the underground and the city busses. The passes also made it a lot less costly to make mistakes, as in getting on the wrong train, or on the right one going the wrong direction. Trains in the underground are "colour" (British spelling) coded, and navigation was fairly simple using a city map, a diagram of the underground, and Larry's navigation skills. We took the tube from Euston Station to the Tower of London.
Tower of London
When we got to Tower Station we had to use a subway (a pedestrian passage under the street) to cross the street to the Tower itself. After we swapped our passes (bought when we got our tube tickets) for the official tickets we entered the Tower. We stood for a few minutes with a multinational group of tourists waiting for the tour. It was well worth it, as we heard many "entertaining" stories from the Yeoman Warder, or Beefeater. He was an excellent guide, involving the audience in the history of the fortress/prison. "We've had many famous people who came here from your homeland," he told a family from Scotland. "Of course, getting in was the easy part." As we listened to his stories of public executions, Larry wondered if our modern TV shows are really that violent, after all.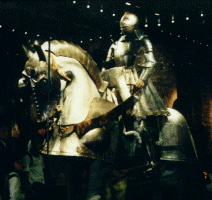 The Crown jewels were stunning, as was the huge gold punchbowl on display. (Larry reminded me the royals throw large parties.) He paid close attention to swords there and in the White Tower. Armor and weapon displays were everywhere, including Henry VIII's armor. It was hard to imagine actually using pikes and lances three or four times our height. We also saw our first real example of a medieval bathroom, or "loo." It didn't look comfortable.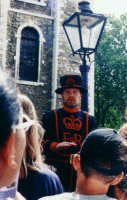 It was by then already past 1:00 PM, so Larry reluctantly passed up the presentation on "How to attack the Tower." "Which proves you don't want to try," the Yeoman Warder had said. The Tower of London was a place of "history by the square foot."
The Liberty Company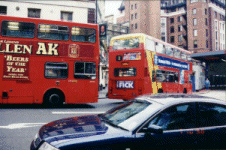 We took a street-level, city double-decker bus, on our day pass, to Picadilly Circus. There we walked up Regent's Street, window shopping. Oh, to be rich! We passed Royal Doulton, Garrard's Jewelers, Wedgewood and Burberry's.
We couldn't resist going into the Liberty Company and touring their fabric department. It was like walking into Ali Baba's cave. We shopped through a whole, huge, upper floor with rooms full of rolls and bolts of designer silks, Liberty cottons and Indian gauzes. There was a separate room for men's suiting. They were having a sale, but most of the fabrics were still beyond our budget, at £65 to £85 pounds per meter, and some were rather narrow. But I didn't resist everything, so there's a project waiting in my sewing room.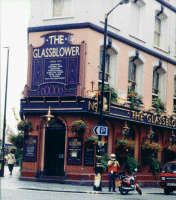 We also shopped in English Teddy Bear Company and M&S (or Marks & Sparks) on Oxford Street, and ate at The Glassblower pub. We had decided to take in a medieval feast (which seemed appropriate, given the setting). Bonnie tried a modern pay phone, in one of the red booths, to make reservations. One 10p coin bought too little time and the call cut off, but not before we had our reservation.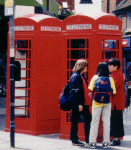 Finding the place challenged Larry's navigation. We got back to Tower Station easily, but then had to cross the adjacent "intersection." London roads don't cross; half a dozen come together in a knot, and change names. But once past that, and down the right street (only the third choice) we found the gateway to St. Catherine's wharf, a delightful area of shops and restaurants built around an inlet off the Thames.
The Medieval Feast, at £35.50 each, was our most expensive meal and show, but it was our splurge. It was held in a basement under Roman stone arches; a very impressive "set." It took from 8 to 10:30 PM, and included four courses served family style plus costumed players and a "serving wench" at our table. We were startled to find her name was Guadalupe, also the name of the river through Kerrville.
Dinner included pate and ham, soup served in a cauldron, chicken brought in another cauldron with veggies on a huge platter for eight people, and cheesecake for 16 and fruit. Parades, singing, dancing, acrobatics, juggling, feats of strength, jousting, and required audience participation for loud toasts of "Wassail!" punctuated the meal. The tube back to the hotel was crowded even at 11:00 PM.

---
© 1996 Larry and Bonnie Arnold, updated September 26, 1998