A Choir Trip to England: Sunday, July 12
By Bonnie and Larry Arnold
The next morning we said goodbye to the breakfast rolls with chocolate in them. We checked out of the hotel to leave London and took a major highway to the Salisbury area.
Texas Department of Transportation ought to take notice of the English "highway services" area. It's a very expanded version of a rest stop with access only from the motorway. It features separate coach, truck, car and caravan (recreational vehicle) parking, a small lodge, and a large building with 3 or 4 restaurants, big public restrooms, a convenience store, and gas station. Gasoline, by the way, is about 70p. per "litre," or at least $4 per gallon.
Motorway roadsides are less mowed, with more heavy trees and shrubs, and few flowers.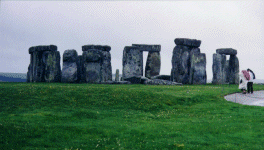 Stonhenge
We arrived at Salisbury Plain in a windy rainstorm, the worst weather of the trip. Our raincoats got wetter than they had been in years, and Larry's umbrella was whipped inside out as he tried to keep blowing wet off Bonnie's camera lens. It wasn't a long "queue" from coach to gate and under the two-lane road on the path, but it was crowded with everyone trying to keep dry.
Stonehenge is smaller than we imagined, but still very impressive. And the rain didn't seem inappropriate somehow. You can walk around on the path and take pictures from yards away, but not walk through it. It's only one of several "stone circles," but it's the most famous and has the most standing stones still upright. We got to the town of Salisbury still a little wet.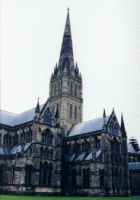 Salisbury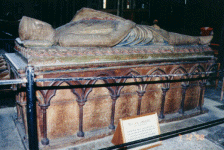 The cathedral there is awesome, outside and in. It really sunk in how much history we were seeing when one tomb inside was of William Longespee, Earl of Salisbury. The sign said, "He was half-brother of King John and a witness to Magna Carta in 1215. He laid one of the foundation stones of the cathedral on April 28th, 1220. He died in 1226 and was the first person to be buried in this great church."
One of the 4 existing copies of the Magna Carta is displayed here, plus illuminated manuscripts. (Their visitors' information board says, "Best surviving copy," sort of bragging.)
The hour long concert was wonderful. The choir sang in Trinity Chapel, at one end of the cathedral. It's the oldest chapel, and first part consecrated, they said. Ruth Thorne played the organ here, but not the main one. Music echoed in the arches 85 feet, and 700 years, up. It gave me goosebumps again. There was a larger crowd and much applause.
Larry was cornered by a group of Italians who told him, through their translator, that they had greatly enjoyed the music. Not satisfied, a small, misty-eyed gentleman gave Larry his own compliment in Italian. Larry could only draw on his dimly-remembered childhood trip to Italy to return, "Grazie."
Our scheduled "Independent Meal" came down to no place to get food nearby, and too little time to look far enough, so we missed lunch. Where did those guys on the second coach find the McDonald's? (Not that American fast food restaurants were scarce.)
Our First Host Family
We met our first host family in Bristol, Keith and Sheila Middleton of nearby Winterbourne. They have no children, and live in a three bedroom "semi" (duplex) on Marsh Close, a cul-de-sac, with single car drive and garage, a front door enclosed in a porch on the side, lots of frosted glass and more lace curtains. The house has two bedrooms upstairs; downstairs a combined living room-dining room, kitchen and eating area, bath, and one bedroom.
Keith's an accountant for a fencing firm and drives a Peugeot 4-door. Sheila has a part-time job surveying traffic at various intersections. They've had other visitors, including Americans, and go to Winterbourne Down UMC in their village.
The Middletons have tea between 5:30 and 6:30, which is really equivalent to our dinner. She fixed trifle for dessert with one of the meals we shared with them.
Staplehill Church
The concert at Staplehill Church went very well. It lasted a full hour, with Ruth playing piano and the church almost full. The service began with congregational singing of some of Charles Wesley's hymns. The hymnbook had words, but no musical score, and all of them were sung to what for us were unfamiliar tunes. Keith and Sheila said they used the same books at their church. The Staplehill church held a reception afterwards for all, and it was very friendly and noisy.

---
© 1996 Larry and Bonnie Arnold, updated September 26, 1998