A Choir Trip to England: Sunday, July 19
By Bonnie and Larry Arnold
We said good-bye to the Cuttings at breakfast and Ian took us to meet the coach again in Harrogate. They seemed to appreciate our host gift of a book about Texas legends, and Ian said he and Robby might be up for a river raft trip through Big Bend National Park some day. Kim was far more interested to learn that James Avery's is in Kerrville.
Divided We Sing
Destinations for the morning involved splitting the tour group in two for Sunday morning services. Larry went with the choir, director and organist to Wesley Methodist Church. Bonnie and the rest of the group went with the trio of girls, Mollie Ables, Sarah Simank and Blair Walslaben, to St. Andrews Parish Church.
St. Andrews Parish Church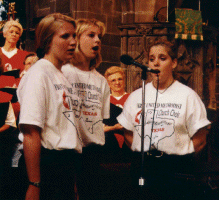 We were a little late at St. Andrews Parish Church, and they had started its full high Anglican service with Eucharist. They have kneelers, cross themselves, had no printed bulletin, and use thin wafers and real wine in a single chalice. But the words in the book are nearly the same as in Methodism.
The sermon was more an announcement and lecture about their area bishops going to a conference soon. Of the four hymns, three had tunes I don't know, again, and they weren't printed in the book. The music for "The Church's One Foundation" was the only familiar one.
Wesley Methodist Church
At Wesley Methodist Church the choir crowded into the choir loft. When the basses sat down on the back pew, there was a loud "crack!" and the seat started to split. We sat more carefully thereafter. The local choir director said they seldom used it when we told him what had happened. The service included a children's program, and an informal sermon by a laid back pastor. It left us with a good feeling, particularly since we shared "I Love You, Lord," Larry's favorite baritone part.
The Old Rectory
Down the road the Old Rectory, where John Wesley grew up, was interesting but crowded. We had to be split into small groups to tour two of its three floors. It's very hard to imagine Charles and Susanna Wesley raising 10 children there. The guide never talked about where the children stayed in the house, but the parents had a bedroom, a study and a guestroom for visiting preachers. Maybe the children were all relegated to the third floor, and the kitchen at mealtimes and for schooling.
They served us a cold lunch there, in shifts; good but hurried. Among the church plate display on one wall (only a fraction of their collection, I was told) I found a "Bicentennial 1784-1984 Pioneering Methodist Bishops" plate that included a drawing of William McKendree. Bonnie's Grandmother Wightman would be proud; according to the genealogy she gave us he's one of Bonnie's ancestors.
Our Farewell Dinner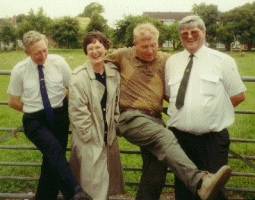 We were late leaving Epworth because of the other church service, tours and meal, so we had a short time at the Hemel-Hempstead hotel before a farewell dinner. The after-dinner remarks included gifts to coach drivers and escort Susan Worgess, and thanks to all for willingness to "Be Flexible." Lynda Ables cried too, thanking Walter Dreier and Frank Keith for counting heads and supervising things on the two coaches.
In some ways, it was an odd mixture that last night. At least one table ordered wine with dinner and was even more boisterous than usual. The young people were hyper; the rest of us, tired. We were told to put luggage on the coaches at 5:30 am to leave at 6:00 for the airport. And a group actually asked to leave 30 minutes earlier than that so they could get their purchases and overstuffed suitcases through Gatwick with more certainty. We don't know if they went to bed at all. The only certainty Bonnie wanted was more sleep.

---
© 1996 Larry and Bonnie Arnold, updated September 26, 1998