A Choir Trip to England: Thursday, July 16
By Bonnie and Larry Arnold
Chester is on the River Dee and near the home of "Alice in Wonderland" author Lewis Carroll, so Cheshire Cats were common in the shops.
Chester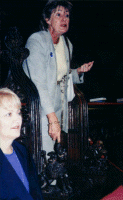 The city is the original Roman fort in Britain ("Chester" means fort.) and most of the guided walking tour was on the Roman wall. But we started at Chester Cathedral, a former Benedictine abbey, and by this far into our trip, I wasn't surprised to hear Henry VIII had something to do with its near-destruction in his split with the Catholic Church.
Chester Cathedral
Rehearsal was going on inside for an organ recital and the organist was making the arches reverberate. We all looked around to make sure Ruth Thorne hadn't slipped loose, but she and Lynda Ables, and others, stood rooted in the aisles listening. Choir stalls were full of fancifully carved oak and medieval fold-up seats for the early monks. The guide said their eight prayer times began at 2:00 am each day. When the seats were folded up there was a narrow ledge on the bottom, so the monks could half-lean on them and still appear to be standing up.
The cloister garden was one of only two places I saw anybody with a lawnmower. What is that kind of grass that's so green and lush like a carpet?
Along one old street in town, we saw a two-story "mall" they built long before the U.S. thought of it. We also found another fabric shop, including a bridal department, and got one more piece of cloth plus a wedding gift for a friend. The very helpful clerk recommended a lunch place after asking, "Do you want quaint or good?" He'd been to the U.S. and considers us more polite and service-oriented than the British – go figure!
Stoke-on-Trent
Almost three dozen of us took one coach to Stoke-on-Trent where we visited the Spode factory. Larry and I only bought 4 mugs, while some others went with the intention of buying enough china that it would have to be shipped home. At £1.50 per dinner plate for seconds - but you can't tell - then a 50% off sale, a few of our travelers were a checkout line unto themselves at the end of our visit.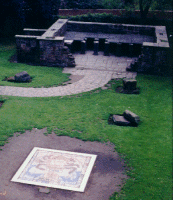 Sonja Johnson also bought a picture postcard of the Spode factory and said she was going to send it home to her husband with just the message, "Be ready for a delivery, and don't quit your day job."
The British Open
The eleven golfers, as reported by Randy Wagner, took the train to the British Open at the Royal Birksdale course and came back with hats and tales of being within five feet of Tiger Woods on his best day of play there. "If you appreciate golf, it was the experience of a lifetime!" he said.
People in the gallery only politely applauded, unlike American tournaments, but Wagner managed to yell, "Hook 'em, Ben!" loudly at Ben Crenshaw to tell him some nearly hometown folks were there. (He's a UT grad, Wagner says.) Several of our crew got their out-of-focus images into a color picture on the front page of a London paper the next day.
Christ Church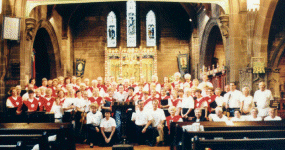 The choir's concert at Christ Church that night in Chester was listed in the city's July "What's On In Chester" booklet. The article describing First UMC singers as a "touring choir," and they even spelled Kerrville correctly. The church was in a poorer part of town and unashamedly fundraising for repairs and expansion, including holding a raffle. It looked as if they also run a sort of mission.
We walked from the hotel to a nearby pub for late supper. It was called The Old Trooper. Larry tried Beef and Mushroom Pie and said it was so good, wasn't there a cookbook somewhere with recipes? I tried breaded prawns (shrimp). They were very good too.

---
© 1996 Larry and Bonnie Arnold, updated September 26, 1998