A Choir Trip to England: Friday, July 17
By Bonnie and Larry Arnold
We checked out of the hotel and boarded the coach to go to York. We traveled in the rain, literally in the clouds and fog, first flat terrain, then rolling hills, then more hilly. Who was it that expected to see England looking like this? It was cold enough for a sweater and coat again. But once more the sun came out when we got off the coach to walk around. We took credit for it, of course.
While we were waiting for the tour a York motorist managed to thoroughly distract several of our more automotively inclined members. When we looked over they had the bonnet (hood) open, and were admiring. It's a guy thing.
York
We ate lunch at the Wagon & Horse Pub before we met the guides for a walking tour. We drew a man this time. He knew his stuff but didn't keep us moving fast enough to see everything we could have in 1½ hours. He also kept beginning sentences with "Obviously, ..." and "As you know, ..." when none of us knew anything about what we were looking at. I guess he stands out because he was the only guide we had the whole trip who wasn't excellent. He left us on a street corner a ways from our starting point too abruptly to ask for directions back. Marks & Sparks proved helpful again, changing currency for us and giving directions.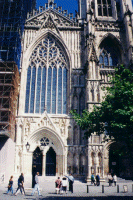 "The Shambles" streets in York are the narrowest we've seen, and that's saying something. We saw interesting shops and had too little time again. Yorkminster Cathedral has scaffolding covering one tower for repairs, a common sight all over the country apparently.
If only the repairs were going on inside, as well. We also saw the remains of the Abbey at York, destroyed as part of the split between Henry VIII and the Roman Pope. No one wants to return to those times, and too often we are reminded that "those times" are still with us. The London police intercepted a terrorist bomb on its way to Euston train station, right by our London hotel, while we were there. Too many people are so tied up in their grandfather's wars they have no time for their children's future.

Unfortunately, the overreaction to such intolerance is often to abandon religion altogether. It's too bad more of us don't understand that absolute solutions don't work.

Being invaded by McDonald's and other American fast food places has its advantages, in known restrooms and Cokes. We added to our mental lists of languages heard when we passed a group of Masai women in bright dresses. (They had nametags on.)

Our Second Host Family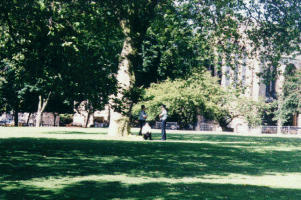 The coaches took us to Harrogate and more host families. We met them in the center of the town, which is an immense green park.
Our hosts here were Ian and Kim Cutting, and children Haley, 18, and Robby, 11. Ian is a British Army officer, a fairly new rank for him after many years as enlisted. They've been to Germany twice for "postings." They live in a 3-year-old "estate house," single-family on a "close." Downstairs is a sitting room with fireplace, kitchen, study that was a dining room, entry hall and garage. Upstairs are three bedrooms and a bath.
The family has taken holidays in Orlando, Florida, twice and the Dominican Republic; and were thinking of going to Turkey this year (a two-hour plane flight). They have a black Labrador dog named Gizmo.
Walking him was the reason we took a long energetic hike after supper. We all drove over and parked on a lane, then headed off down a wild-looking path in the other end of that city park. It quickly led to a more civilized path, and a football (soccer) field where Robbie and a friend kicked a ball around while the four of us walked down to the other end of the park. It turned out to hold several gardens in full bloom, including some of the huge English roses.
Bell Choir
Another couple in our group, the McGinnises, stayed with a lady who took them to bell choir rehearsal, but she didn't mean handbells. They got a chance to ring two of the big bells in the church tower that night.

---
© 1996 Larry and Bonnie Arnold, updated September 26, 1998