The Mark of Abel
Sandalin Pell
Sandalin Pell's life is exact. Her music is soft melodious, and precise—very much in demand. She and her concert harp travel around central Texas playing for weddings, churches, and fashion shows, and auditioning for orchestras. Only a flair for organization keeps Sandalin's tight schedule running. Her life is completely in control, except for the orchestra chair that keeps eluding her.
That and Colleen, the Methodist choir director. She's written a Christmas play, with teenagers as shepherds, toddlers as cherubs and Sandalin as an angel playing a harp. She has already designed the biggest, glitziest set of wings imaginable for Sandalin to wear. She's getting ready to start on a halo. Sandalin has to nip that in the bud.
Might as well get it over with, Sandalin thought. "About those wings. They're too heavy. And I won't feel comfortable playing in them. I particularly don't want to wear a fake halo."

Colleen sighed. "I didn't think you were too thrilled when I showed you the sketch. But I've got wings and halos planned for the cherubs; you need to be consistent."

"'Consistent' is the right word. I'll look like a five-year-old."

Colleen stepped back and leered at the curves under Sandalin's tailored shirt. "Five? I hardly think so."

"You know what I mean."

"Actually, I think you're paranoid about the whole 'angel-playing-harp' image. Are you afraid it doesn't fit? Or afraid it fits too well? Tell you what—the Cowboy Corral is open tonight. We're both single and unattached. We could belly up to the bar and see how un-angel-like we can get."

The thought of the two of them at the local saloon hatched a contagious laugh that broke the argument.
But leaving rehearsal Sandalin finds Colleen huddled by her car saying she has been raped. Sandalin takes her to the hospital and, with Merry's assistance, starts to help her friend recover.
Now she has to deal with Colleen's abrasive brother, Ed, who takes over the Christmas program, rescues Colleen, and shows up to compete against Sandalin at the next Silhouette shooting match.
Metallic Handgun Silhouette
Sandalin is a fierce competitor in the shooting events held at the Denim Gun Club. If her scores keep improving she'll have a chance at the Hunter's Pistol championship, and possibly advancing to state competition.
Hunter's Pistol is a hunting-related shooting game. It's one of the events sanctioned by the International Handgun Metallic Silhouette Association. And yes, as in most shooting competitions, men and women compete against each other on an equal footing.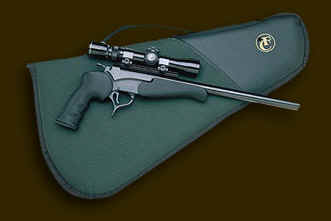 The pistol Sandalin uses is a Thompson-Center Contender, a single-shot target handgun. Sandalin shoots it from a standing position and regularly hits targets out to 100 meters.
The rules are simple. There are five steel animal silhouettes set up in a row at the appropriate range. Sandalin must shoot from left to right, one shot per target, and knock each silhouette off its feet. Then she moves to the next stage, with a different animal, and starts over. Targets consist of chickens at forty meters, pigs at fifty meters, turkeys at seventy-five meters, and rams at one hundred meters. Most matches are double, with two sets of animals or 40 targets.
I said it was simple. I didn't say it was easy.
Purchase The Mark of Abel